Contact our Sukhothai Budget T.R. Guesthouse
T.R. Guesthouse is owned and managed by a Thai husband-wife team, Toh and Long.
Telephone, calling from...:
... Outside Thailand: +66-55-611-663
... Inside Thailand: 055-611-663

If we are out, call our mobile:
Outside Thailand: +66-8-8156-8025
Inside Thailand: 088-156-8025

Email: guesthouse_TR@yahoo.com
Web: www.SukhothaiBudgetGuesthouse.com

Address: TR Guesthouse, 27/5 Pravet Nakorn Rd., Amphur Muang, Sukhothai 64000
Please email us at guesthouse_TR@yahoo.com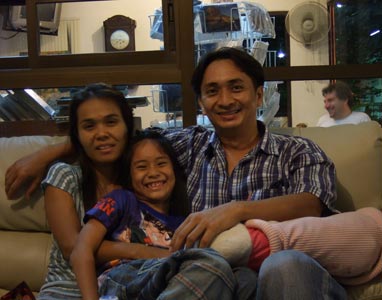 Long, daughter Kwan, and Toh, the family who owns
TR Guesthouse and lives in it as well.